Are you dreaming of a white Christmas? Well, we can't promise snow, but we can promise you a gorgeous white Christmas tree that will have all your family and friends swooning. In this post we share our favorite ways to turn your white Christmas tree dreams into a reality, even without bribing the weatherman.
This post contains affiliate links for your shopping convenience.
1. Choose Your Tree
If your goal is a magical white Christmas tree, our first tip is to choose a flocked Christmas tree. It's not essential, but it sure does make your white tree easier to achieve.
After all, a flocked tree is already white. So, it takes a lot less work to create your white vision. For those of you who are new to the concept of a "flocked tree," the following is a definition.
A flocked tree is a tree covered in white particles, resembling a snow-covered tree.
Shop my exact Flocked King of Christmas 9′ Christmas tree shown in these photos.
Shop all King of Christmas Trees here.
Shop affiliate links by clicking photos below:




FAQ: Flocked Christmas Trees
Are flocked trees messy? Flocked trees are messier than non-flocked trees, that's for certain. But in our opinion, they are not prohibitively messy. A quick vacuuming and you're ready to go. Flocked trees are worth a little bit of mess.
Besides the obvious white color, are there other benefits to using a flocked Christmas tree? Yes, a flocked tree has a fuller look, requiring less decorating and fewer ornaments. In fact, a flocked tree with lights looks gorgeous all on its own.
How well does a flocked tree hold up over time? Advances in methods of flocking result in better made trees. New flocked trees overall are less messy than they were in the past and stand up better over time.
Are there different styles of flocking? Yes, there are flocked trees that are full all over. There are flocked trees that have a snow-fallen look. In other words, they look like a real tree might look out in the forest.


2. Add White Lights to Your Tree
We highly recommend buying a pre-lit tree. It saves valuable time, energy, and effort in your tree decorating process every year. We must admit, we've gotten spoiled recently because we always use pre-lit artificial trees.
But if you choose a real tree or an unlit artificial tree, the next step is adding white lights.
Tips for adding your own lights:
Always check that they are working before adding to the tree.
Let them "warm up" because some lights reveal that they are blinking only after warming up.
Start from the bottom and work your way up.
It's great to have a helper during this process.
Keep stepping back to make sure your lights are evenly spread out.

3. Add "Snow" to Create your White Christmas Tree
You can turn a regular green Christmas tree whiter by adding snow. Or you can make your flocked Christmas tree fuller and even whiter by adding snow.
What do we mean by "snow"? Our version of snow is created using microfiber duster refills.
You can add pockets of snow-covered branches by adding white duster refills haphazardly around your tree. You get to decide how much you want.

Pros:
They're reusable each year. You can even repurpose them as dusters if you decide to.
They're inexpensive.
You can use as many as you want.
They make your tree look full and fabulous.
They give your white Christmas tree a unique, designer feel without being obvious.
Cons:
It's takes quite a few to make a big impact. I used 60 on my 6.5 ft. evergreen tree.
It's a little challenging to get the hang of how to place them. After all, for most of us, this is a new technique.


4. Use White Picks
One of the fastest ways to create a white Christmas tree is to use white picks.
Picks come in all kinds of styles, shapes, sizes, and designs. One large pick can fill a tree as much as several ornaments, depending on the size.
Therefore we love using picks.
Another reason is that using picks gives an easy uniformity to your white Christmas tree.
The more we decorate trees the more we have learned to love the beauty and convenience of decorating with picks.
Below are some beautiful options we've found to decorate your white Christmas tree.

5. Add Ornaments to Create your Christmas Tree
You'll want to use a variety of white ornaments with texture, unique shapes, and various finishes.
Don't be afraid to blend silver and gold ornaments into your tree.
Metallic adds interest and light while keeping the tree neutral in color.
Texture and sparkle add to the dimension and interest of the tree.

6. Finish with Ribbon or Bows
Add detail to your tree with ribbon. We like the look of both wired ribbon and non-wired ribbon.
You can choose to add a contrasting ribbon to your all-white tree which will pop.
Or you can choose to continue with a neutral theme, using metallic mesh ribbon for example.
I prefer a ribbon that has a bit of contrast.
Ribbon is a great way to create cohesion across your tree.
Decorate your Christmas tree with ribbon in a variety of ways to make your tree look like a designer tree.


Create a White Christmas Tree for Lasting Winter Decorating
Last year right after Christmas I removed all the color from my Christmas tree.
This included colored ribbon, ornaments with color, and any picks with color.
It wasn't hard to do. It probably took me a half hour.
What remained was my neutral, white Christmas tree. I gave it a new name and called it my Winter Tree.
I absolutely loved it. And I kept it up through most of January, continuing to enjoy its beauty.
I highly recommend trying this, especially if you aren't quite ready to let go of your Christmas tree once the holidays are over.
Happy Holidays, Friends!
jodie & julie
Don't Miss These Fabulous Christmas Trees!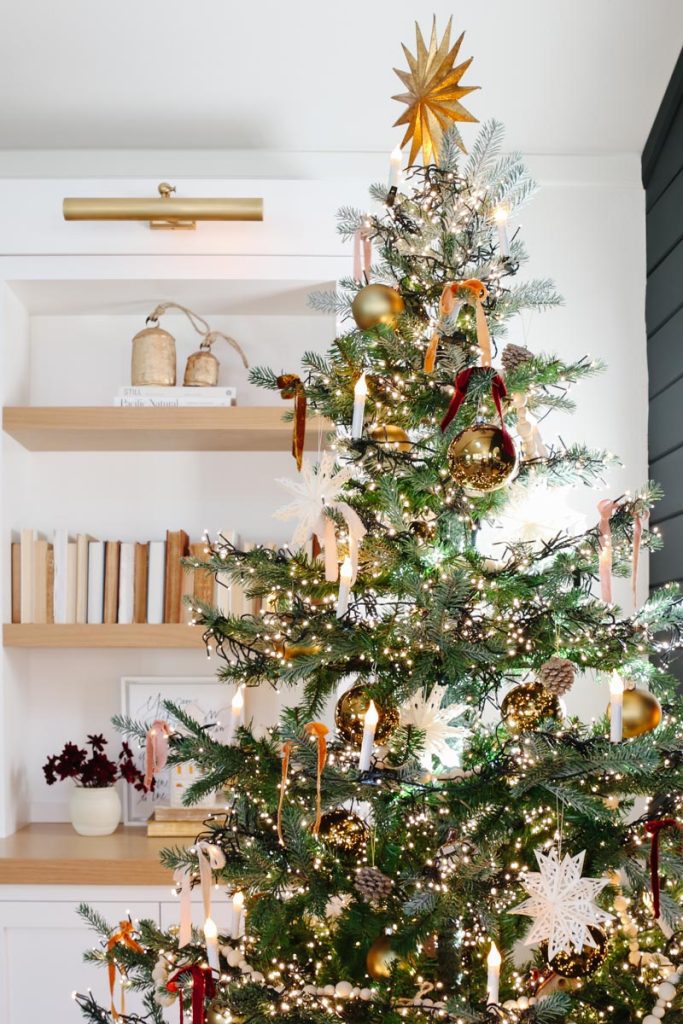 Christmas Tree Decorated with Candle Lights | Modern Glam
Old World meets modern with my Christmas tree this year decorated with candle lights. Come see all the details.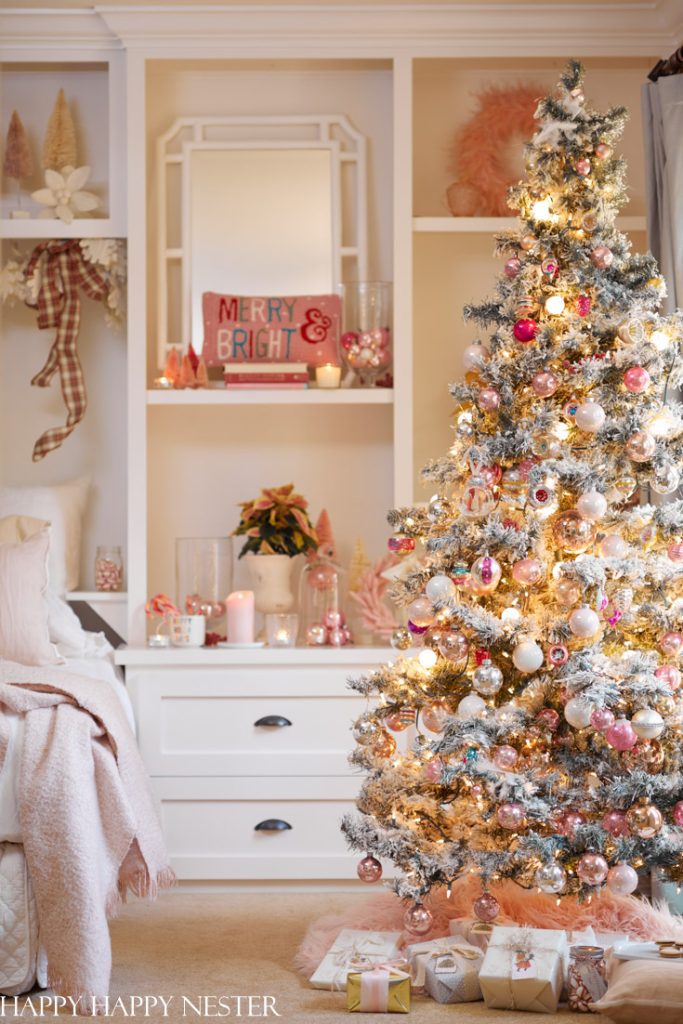 Pink Theme Christmas Tree | Happy Happy Nester
Check out my Pink Theme Christmas Tree Decorations that includes a wide variety of retro and vintage ornaments. All the decor is shades of pink.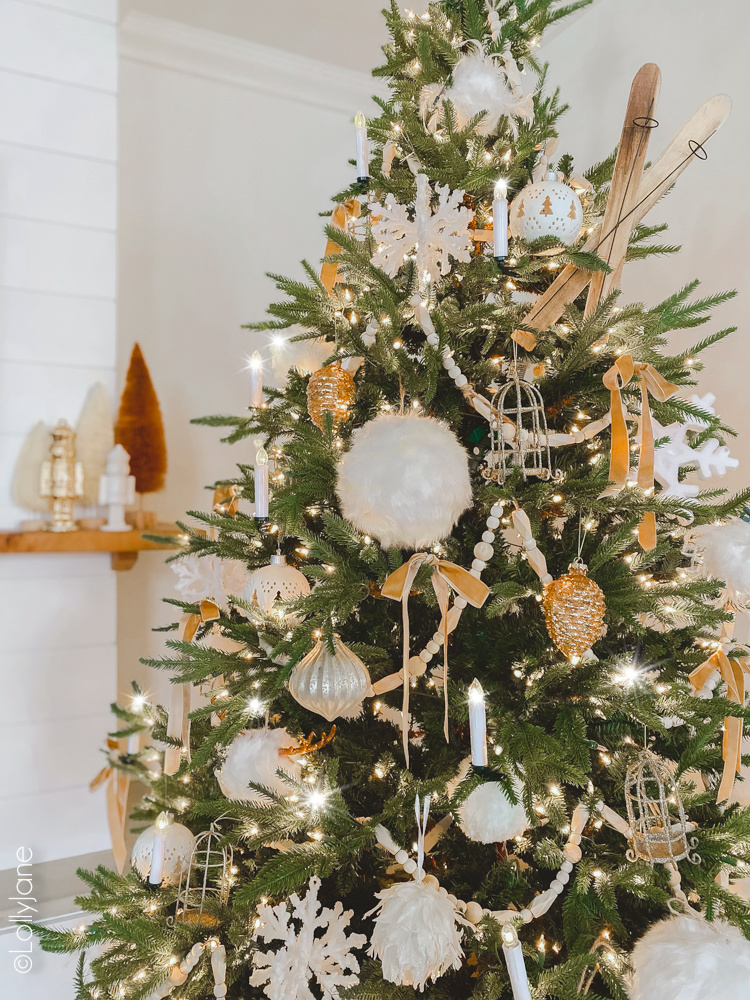 Christmas Tree Decorating Ideas | Lolly Jane
Decorate your Christmas tree in just a few steps with these simple ideas! Trimming the tree doesn't need to cost a lot of money or take a lot of time!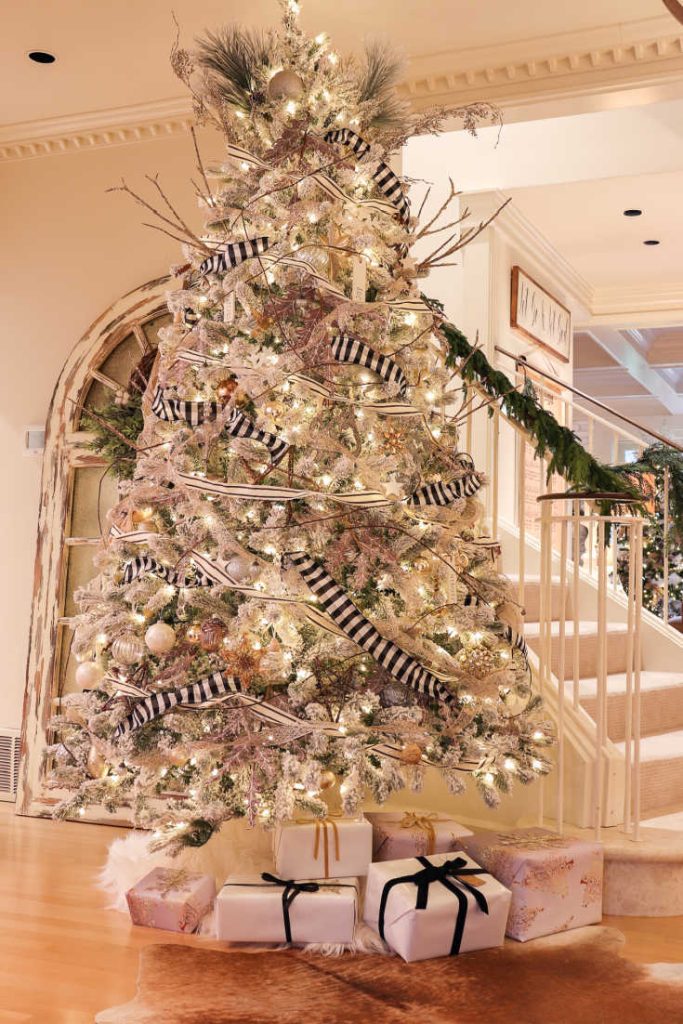 6 Easy Ways to Achieve an Irresistibly Festive White Christmas Tree | The Design Twins
Dreaming of a white Christmas tree? Our best insider tips, strategies, and sources to easily create a stunning white Christmas tree you'll love.
Summary
Article Name
Six Easy Ways to Achieve an Irresistibly Festive White Christmas Tree
Description
Dreaming of a white Christmas tree? Our best insider tips, strategies, & sources to easily create a stunning white Christmas tree you'll love!
Author
Publisher Name
Publisher Logo