What factors create an influencers value? Insights and tools to price your Instagram posts for successful collaborations
Want to know what factors create an influencers value? We provide all the insights & tools to price your Instagram posts for successful collaborations.
We're about to get completely real with you all. No apologies, no nonsense. Why? Because we really want to pull the lid off this important topic of what you are worth on IG and subsequently what to charge for your Instagram collaborations. Jodie and I think it's really important step to help this industry and all of our fellow Instagram Influencers. The hush-hush nature of what to charge hurts us all, across the board.
We need to become transparent so we all can understand our true value. Otherwise how can we expect companies to pay us what we're worth? As long as we are willing to give away our work (either out of ignorance or fear) and undervalue ourselves we can't expect change. Want to know what you're worth and be paid accordingly? Read on.
The Real Value of Influencer Marketing
Influencer marketing is the most powerful marketing trend worldwide. Companies can expect as much as a 960% return on investment, as revealed in a recent survey sited by CampaignLive. And this trend is only predicted to continue to grow. Why? For several reasons. Marketing professionals have realized in the 21st century that a much more effective way to reach their customers is directly through people they follow and trust. It's simple really: People trust recommendations from real people significantly more than they trust advertisers. The other reason is that technology will continue to provide an increasing ability for people to block advertising, further forcing companies to look to influencers to get their brands seen and their messages heard by potential buyers.
But What is Your Market Value?
The Four Main Factors Affecting Influencers Value on Instagram
Engagement Rate
Number of Followers
Follower Growth Rate
Sponsored Post Promotion Rate
The Equation
An Instagram's Potential Value = Engagement Rate + Follower Growth Rate + Follower Number  – Sponsored Post Promotion Rate
Measuring Your Market Value
Because everyone is now aware of how easy it is for accounts to buy fake followers the value of an account must be proven. The value of an account is measured not only by total number of followers, but also by a number of other equally important factors (listed above), one of the most important being your rate of engagement.
Rate of engagement is measured by determining the percentage of followers who interact and engage regularly with content, i.e. likes, comments & shares. There are plenty of tools that do the simple calculating, and these tools are being used by savvy marketing firms to hire influencers. You can and should use these tools (or calculate it manually) to understand your current market value and know what to charge.
Influencers: How to Calculate Engagement Rate
Now that we've revealed the importance of your engagement rate, how do we figure it out? You can calculate it by hand or use one of several easy online tools. Remember your rate is a fluid thing, but it is still very revealing at any given time.
The Mission recommends averaging the number of likes of posts four to ten (because your most recent three posts are still being filtered through IG and final numbers aren't yet achieved).
Take the average of posts four through ten and divide it by your number of followers.
This is your most recent snapshot of how your engagement is doing. Other tools keep it simpler and average the last ten or the last 12 posts.
Now that you've got your current rate of engagement, what does it mean? The chart below helps you understand what your rate means.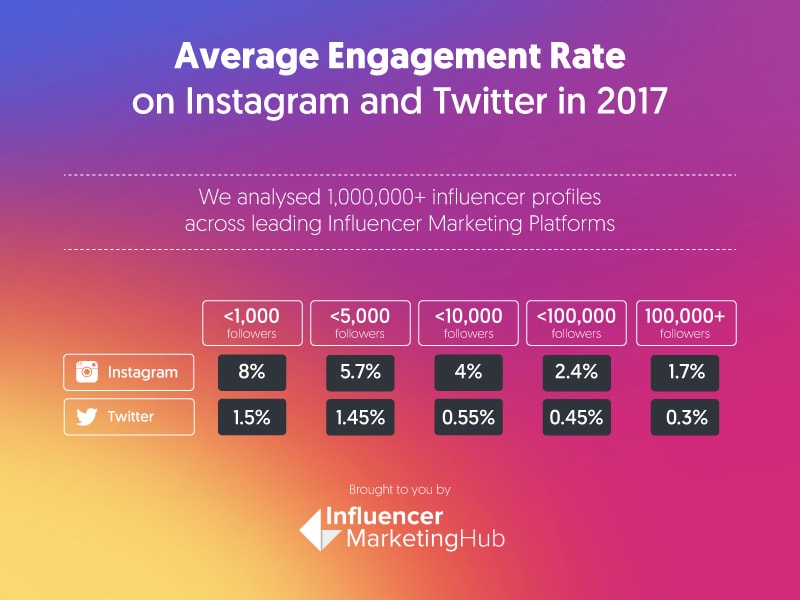 The tool above indicates the average percentage of engagement with varying numbers of followers. The higher the number of followers the lower the engagement rate.
My Example
I'll use myself as an example. Today, my engagement came up a little over 3%. I was slightly dismayed by this "low score" until I saw that for my range of followers (173,000+) the average is only 1.7%. My dismay turned into delight when I understood. As you can see, the lower the follower count the higher the average engagement rate and vice versa. This makes sense. The bigger the feed the longer people have been following.
If You Aren't Growing, You Are Dying
Excitement (expressed through engagement, i.e. likes, comments and shares) has the tendency to wane over time. This is another reason why your growth rate is so important. Your account must continually be driving new excitement and new followers to prove to potential companies your current and future relevance. No resting on your laurels in this fast-paced world of social media.
If the focus is so much on quality and not quantity why isn't it enough to just have a large, loyal following? Why do you always need to be growing? Well, it turns out it's actually essential. In order to have real value to attract companies and sponsorship, you need to prove that you are current and continually relevant to future potential buyers.
A steady, positive growth rate is an essential component in your value equation. Companies want to know that in addition to your loyal, long-standing following you will also be providing new prospects. Brands constantly want to attract new potential customers and your growth rate promises to deliver on this important aspect.
Determining an Influencers Growth Rate
An account's growth rate is another vital factor in determining value. This is the speed at which an account is growing its following.
To Calculate: To find your follower growth rate, take the difference in total number of followers you have today minus the total number of followers you had one month ago. Then, divide that number by the total number of followers you had one month ago.
My Example:
My current Follower Number: 173,000 minus my follower number a month ago: 163,500 = about 10,000. 10,000 divided by last month's follower count = a little over 6%. Is this good or bad? Here is the breakdown for industry standards & averages.
0 – VERY POOR
0 to 2.5% – POOR
2.5–5% – AVERAGE
5–7.5% – ABOVE AVERAGE
7.5% and above – EXCELLENT
Follower Count: Does it matter?
With all this emphasis on engagement does your follower count even matter? Well, yes, it definitely still matters. This number shows your commitment over time and your potential reach. You need size to even get noticed by paying brands in the first place.
You need to show:
longevity
commitment
reach
engagement
steady growth.
In other words, you need to have it all in order to command a price.
Influencers: Let's Get to Pricing
All this talk and we still haven't gotten to price. Well, as much as we wish it weren't true the nature of this industry makes pricing very challenging.
Influencer marketing is still very new. This is basically unmarked territory.
Everything is changing at a break-neck speed.
It is to the advantage of the companies to keep it all hush-hush. The more unaware influencers are the better (for them).
Now that you've learned how to work with brands, it's time to get serious about Instagram! We invite you to join us in our comprehensive online course called "From Confused to Confident: 6 Steps to Instagram Success." Learn more information and sign up for our Instagram success course here.
For all these reasons it's up to us to educate ourselves and take the reins. If we don't, we risk being taken advantage of. Ignorance is not bliss in the world of Influencer Marketing.
There are several reliable tools you can use to determine a price range for your posts. The first tool that Jodie and I have used over the past year and a half is called Social Blue Book. This site provides some useful stats regarding your feed as well as a price range for posts. It costs to join, but many find it helpful to use at least as a learning tool for a period of time. It also allows you to send your evaluation directly to potential sponsors.
We have talked privately with many influencers who are currently asking for, negotiating, and receiving their Social Blue Book value. Generally speaking, this is approximately $100 for every 10,000 followers on IG. So we say, stick to your guns, know your value, and get what you're really worth. You will get no's, but that's okay. This allows you to spend your time building your value and working smarter, not harder.
Influencers Price Calculator Option Two
Next, you should check out Influencer Marketing Hub's Instagram Influencer Sponsored Post Money CalculatorMarketing. It too provides a price range for any account you type in. It's free and easy to use. It gives some basic stats at the same time. The resulting price range we've found to be quite a bit lower than the one provided by Social Bluebook, but it is still "food for thought."
My Example:
I plugged in my account. My range was between $391 – $652, less than half what Social Bluebook gave me. But with this information I feel like I have the real minimum I should agree to. I suggest you use both ranges to successfully negotiate all proposals.
Instagram Influencers Stats Tool
Another way to understand your value is to keep abreast of your stats. A helpful tool in this regard is SocialBlade. You can view a quick summary of where you stand currently. You can also see a detailed view of all stats from the past 30 days. Additionally, you can see a forecast, based on current trends, where you will be in three month increments for the next five years. All this information is helpful to see and understand. And it is also good to know because this is what potential sponsors can see and access as well.
If your stats are less than you hope for it can motivate you on where you need to improve. It can motivate you to increase your efforts on Instagram to achieve your goals. On the other hand, if your stats look amazing you can send potential sponsor companies to SocialBlade and show them your stellar marketing power and use this information to negotiate your pricing.
Influencers Sponsored Post Promotion Rate
If you've ever taken a beginner economics class you'll understand the reasoning behind our final factor's importance in determining the value of a post on your Instagram feed. Sponsored Post Promotion Rate is the law of diminishing returns in action. In laymen's terms, the more you feature sponsored content the less powerful (read: less valuable) your sponsored posts will be.
Therefore, be choosy. You literally pay a price for every sponsored post you put on your feed. Each sponsored post diminishes the value of your next sponsored post. If you are featuring sponsored posts (ads) left and right, you are definitely lowering your sponsored post value. Weigh the pros and cons of each collaboration and protect what you have created. Our advice: Make sure your sponsored posts are in line with your brand and your audience, and be sure not to over-saturate your feed.
Influencers: Learn How to Collaborate
The art of negotiation is just that; an art. It is a skill to be honed just like your photography or styling. It comes from practice and yes, making mistakes. One of the best Instagram help posts Jodie and I have ever written covers this topic in depth, and if you are serious about collaborating is really is a must read. It's called How to Master the Art of Instagram Collaboration. If you've already read it, we suggest reading it again. Print it out so you can refer to it in your negotiations and throughout your journey as you become an Instagram Influencer.
Are You Ready to Take your IG to the Next Level?
Do you feel like you've entered Influencer University? Do you feel like you need to? If so, we are here to help. It may be time to take this whole thing more seriously and invest in your journey. We have a proven online Instagram course that our students rave over.
Find out more about our course: "Confused to Confident: 6 Steps to Instagram Success"
We also offer a Personalized Instagram Audit: A 90-minute Video Coaching Session with Jodie and me. This will powerfully impact your journey and optimize your account for success.
In a Nutshell
In a nutshell, we recommend checking out each of these tools. Take your time and read this post again in a couple days. There is a lot here, and some of it is a little technical. Give yourself time to absorb and revisit it. We think you'll definitely get the hang of it if you give this information time to germinate.
And we honestly think the effort is worth it. You spend so much time creating value. The time you spend understanding how your feed holds value is crucial to making all your hard work pay off. Even if your numbers aren't there yet, it's so much better to get an understanding of how to handle negotiations so you're knowledgeable when the time comes.
Finally, we hope this information and these tools help to motivate you to see the future. And see that your future can be bright.
Wishing you success and joy along your journey.
Your Next Step to Instagram Success
Now that you've learned now to negotiate with brands and what to charge for sponsorships, it's time to step up your Instagram game in general. If you want to get serious about Instagram, you would benefit from receiving a personalized Instagram audit. Sign up to receive our 90-minute Personalized Instagram Audit today. We will analyze every aspect of your account, create a clear plan for you, and show you how to move forward successfully.
Jodie and I have been teaching and coaching clients how to succeed on Instagram for years. Many past students are now successful influencers and have grown their brands to levels they could never have imagined. We can do the same for you if you take this next step.
It's time to invest in yourself and your goals. Instagram success is just around the corner. You can do this!
jodie & julie
Summary
Article Name
Influencers, Want to Know Your Worth and What to Charge?
Description
Want to know what factors create an influencers value? We provide all the insights & tools to price your Instagram posts for successful collaborations
Author
Publisher Name
Publisher Logo