What do we love most about these Brownie Bats made with Halloween Oreos? Firstly, they are stinking adorable and make quite a visual impact for any Halloween party display, event, or special treat. Secondly, they are crazy easy to make. Thirdly, they are delicious.
If you know us, easy is a prerequisite for any recipe we share. When you create a Halloween treat you know the visual is important. Whether you're making them for your own kiddos or making them to add to a Halloween party spread, you want your dessert to grab people's attention. These Halloween Oreo Brownie Bats do just that. And they do not disappoint! This recipe is also part of a fun recipe blog hop so we encourage you to take a look at some of the other yummy recipes included below. Take a few moments to visit these fabulous blogs after you've made our bat brownies. There are lots of great ideas to add to your Halloween treat list!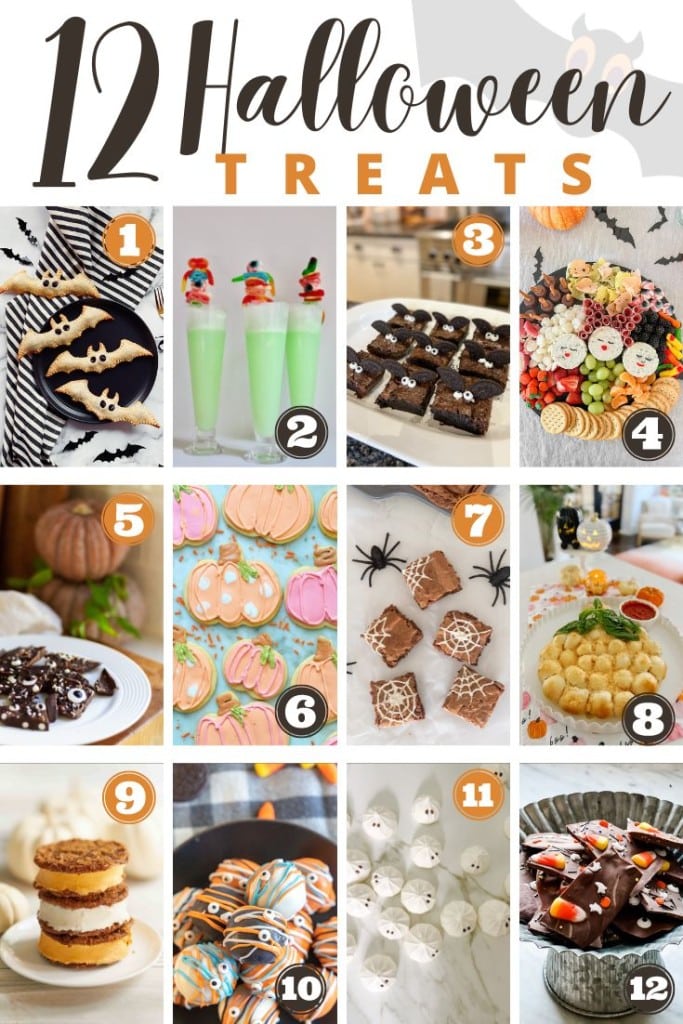 Blogger's Best Halloween Treats
So, if you're ready for delicious, adorable, and easy, it's time to make these Halloween Oreo Brownie Bats.



Ingredients
1 – Box of your favorite Brownie Mix (or you can make yours from scratch, but we are showing you the EASY version!) If making for a group, we recommend without nuts just in case of allergies. We used Pillsbury Chocolate Fudge Brownie Mix. 15-20 Oreos 1 package of candy eyes (usually found in your local grocery store baking aisle) We told you this is easy.
Bake Your Halloween Oreo Bat Brownies
Bake your brownies according to package directions.
We wanted thick brownies, so we used our 8 x 8 Pyrex dish which made 9 thick, square brownies.
If you need more brownies or are okay with thinner brownies feel free to use a larger dish to bake.
Prepare Your Halloween Oreo Bat Wings
Estimate how many brownies you will have.
Open the Oreo cookies and scrape the white filling into a small dish (you will use later).
On a cutting board, carefully cut the cookies in half.
There will be some crumbling and you'll need some extra Oreos to compensate for cracking. We didn't mind. This led to guilt-free snacking while we worked 🙂
Assembling Your Halloween Bat Brownies
Let the brownies cool completely. We assisted cooling by placing in the refrigerator.
We like to use a plastic knife to cut our brownies. It always does a cleaner job.
Take 2 Oreo bat wings and sink into the center of your brownie. (See photos.)
Take a little bit of Oreo filling and use to help adhere each eyeball onto your brownies. Place right in front of the center of the bat wings. (See photos.)


Making this Recipe with the Orange Filled Halloween Oreos
You can use the special edition Halloween Oreos that are filled with orange cream instead of white. This will give your bat eyes a fun orange pop. Add more filling behind the eyes if you want this to stand out.
FAQ's
1. Do Halloween Oreos taste different?
No, they are only different color. But many lovers swear they are made with extra filling. Some attest to there being enough to qualify them as double stuffed or more.


2. Where can I find Halloween Oreos to purchase?
You can buy them online on Amazon. Also, you can try your local supermarket. They do tend to sell out.
More Treat Recipes to Enjoy!
How to Create the Perfect Chocolate Fondue Charcuterie Board The Ultimate Easy Fall Pumpkin Spice Recipes
Ideas to Display Your Cauldron of Halloween Oreo Bat Brownies
Place on a long or large cutting board and create the look of a swarm.
Arrange on your Halloween Party display on a tiered tray, giving height to your bats. (See our suggestions and shop below)
Place on an orange plastic tablecloth to display and arrange in a swarm.
Use a cute platter like we did and decorate as you like.
You don't need to do too much. These adorable Halloween Oreo Bat Brownies speak for themselves. Enjoy!

Here are some of our favorite display platters to shop now:


Looking for more Halloween Inspiration?
We've got you covered! Here are some of our favorite Halloween crafts. How to Make Simple Spooky Halloween Bats Fast and Easy How to Get Spooky For Halloween: Decor on a Budget Happy Halloween, Friends!
jodie & julie
Summary
Article Name
How to Easily Make Adorable Brownie Bats with Halloween Oreos
Description
Make this Halloween treat fast and easy. These Halloween Oreo brownie bats are adorable and spooky and add the perfect wow to your Halloween party spread.
Author
Publisher Name
Publisher Logo