Do you love the look of expensive stone fall pumpkins but hate the price? Us too! That's why we know you're going to love this easy DIY. In this post we are going to take you step-by-step so you can create the enviable Pottery Barn look with faux stone pumpkins at a fraction of the cost. And you're going to have fun along the way. Promise! Let's make some stone pumpkins!
We use affiliate links for your shopping convenience. These links earn money to support our blog.
Let's Save Some Money and DIY the Pottery Barn Look for Less
We've seen stone pumpkins currently selling currently for $35 – $175! What? Are they made of gold or concrete? Asking for a friend.
We all love the look, but they are not worth spending that much hard-earned cash, don't you agree?
Enter this easy DIY hack. In one afternoon, you can transform your old collection of plastic pumpkins or buy some new, inexpensive ones.
We found a few at the Target Dollar Spot (for $5 each).
Here are others we used and love:

We also want to invite you to take a look at some of the wonderful ideas in this pumpkin blog hop! These are some creative and fun ideas my friends have come up with–be sure to add these to your fall to-do list!
Blogger's Best Series – Fall Pumpkin DIYs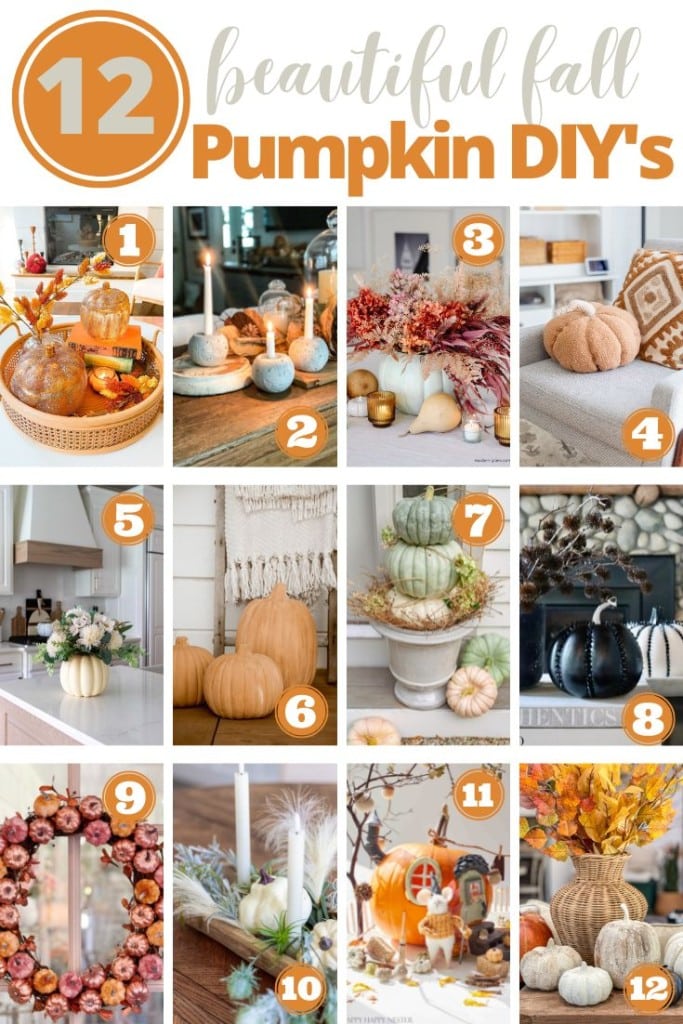 Faux Stone Fall Pumpkins Shopping List
Before we get started let's make sure you have what you need.
(Click on photos to shop products.)
Fusion Mineral Paint: I like Raw Silk and Chateau
Use the link below and save 10% on your Fusion order.
Shop Fusion here

Fusion Mineral Glaze (optional)
Fusion Mineral Antique Wax (optional)

Minwax waterbased Polycrylic in Clear Matte
plastic mixing bowl
paint stir sticks
Step-by-Step How to Paint Fall Pumpkins for Faux Stone Look
Step 1: Create Texture for Faux Stone Pumpkins
You will add the all-important texture by painting a layer of paint mixed with baking soda.
Using a small plastic bowl pour a small amount of paint.
You can easily mix more so go with a small amount first, so you don't waste paint).
Mix about 50/50 paint to baking soda or until the mixture becomes grainy.
If you add too much the mixture will become clay-like and it won't stick. If this happens add more paint.
My advice is to resist the temptation to add water. It will become gummy and won't dry if you add water.
Colors: To create the creamy color of "stone" I used two Fusion Mineral paint colors.
Raw Silk is a creamy warm white that has a bit more yellow in it.
Chateau has a little less warmth and a little more of a coolness that looks a little more like stone, I think.
Step 2. Add Color Dimension with Multiple Color Techniques.
Option 1: Coffee Ground Technique for Fall Pumpkins
One option is rubbing with coffee grounds. This is fun and looks really natural in my opinion. It's easier than it might sound to do, and to control.
Just sprinkle on where you want it and start rubbing in.
The more color you want, the more you rub, and the harder you press.
You can layer it and rub more to get it darker.
If you want to remove it, you can take a dry brush and brush it off. I found this quite effective at removing the color.
I was also able to direct the color into crevices and maneuver the coffee grounds just where I wanted them. It's surprisingly easy to make it look natural, and at the same time control the look.

Option 2: Fusion Mineral Antique Glaze
The next option is to use Fusion Mineral Antique Glaze.
This is so easy. You just brush on with a small brush and wipe off the excess to control the look.
It's best to use a lint-free cloth for this. I used cheesecloth.
With this process of wiping on and off you can slowly build the look you want and see how much of the glaze you want.
Again, it's easy to control and even if you don't know what you want it to look like in the beginning through a gradual process of revealing the look slowly. The look you want may evolve and reveal itself gradually over time through this process.
Option 3: Fusion Mineral Antique Wax
Option 3 is like option 2, but the technique is just slightly different.
Using Fusion Mineral Antique wax, I applied it with cheesecloth and wiped it off with a fresh section of the same cloth.
It's a fun process of applying and wiping away.
There is no right or wrong, only creating texture and interest in your pumpkins.
Step 3: Finish Your Fall Pumpkins by Sealing
This is the final step once you have achieved the look you want.
Once you have created your beautiful stone-look pumpkins, you want to make sure they stay that way!
So this last step is very important.
You want to seal your pumpkins with at least one coat (preferably two) of a Polycrylic protective finish.
This is a crystal-clear finishing coat that will seal and protect your design and make sure it stays exactly as you painted it.
The good news is that it goes on super-fast with a foam brush and dries in 3 hours. You can apply a 2nd coat at that time.
I used Minwax Waterbased Polycrylic in Clear Matte for this project. It's a great polyurethane topcoat which dries clear and never yellows.
Lots of Options for your Faux Stone Fall Pumpkins
Have fun mixing all of the above painting techniques for unique fall pumpkins that look like aged stone pumpkins.
Each one will turn out different from the next, creating a realistic aged ensemble of gathered fall pumpkins. You'll have the gorgeous Pottery Barn look without the price (or the guilt).
Don't you love that? We sure do!
Looking for more Pottery Barn look DIY's? Visit our post, "Pottery Ideas and Ho to Get the Admired Pottery Barn Look with Ease".
How about some more fabulous fall inspiration? We have plenty! Fall happens to be our favorite! Yours too? Well, we are a match made in Heaven!
Visit some of our favorite fall posts below:
How to Create a Magical Halloween Tablescape
Fall Decorating Tips to Create a Cozy Home
Creative Fall Decor Made Easy with Simple Tips to Save Money
How to Make Simple Spooky Halloween Bats Fast and Easy
Let us know if you plan to try this fall pumpkin DIY project. And after you do, we would love to hear from you how they turned out. Comment here or message us on Instagram @julie.thedesigntwins @jodie.thedesigntwins and let us know. We always enjoy chatting with you.
Happy Fall Y'all!
jodie & julie
Summary
Article Name
Fall Pumpkins: How to Easily Make Costly Pottery Barn Look for Less
Description
Love the look of stone pumpkins but hate the price? Us too! Here's our easy step-by-step tutorial to create gorgeous lasting fall pumpkins!
Author
Publisher Name
Publisher Logo